A recession is a period characterized by a significant decline in economic activity spread across the economy and lasting more than a few months.
According to a World Bank press release, with central banks worldwide simultaneously hiking their interest rates in response to inflation, indicators point towards an economic downturn and global recession in 2023.
The tremendous growth rate and changes shaping the eCommerce industry have enabled brands to connect with new customers in more engaging ways than before. 
A looming recession for the eCommerce industry can spell a drop in conversions and efficiencies as demand and consumer behaviour change. As sales volumes drop, so does the profitability.
Let's understand how price optimisation can help your eCommerce business reach its goals during these difficult times.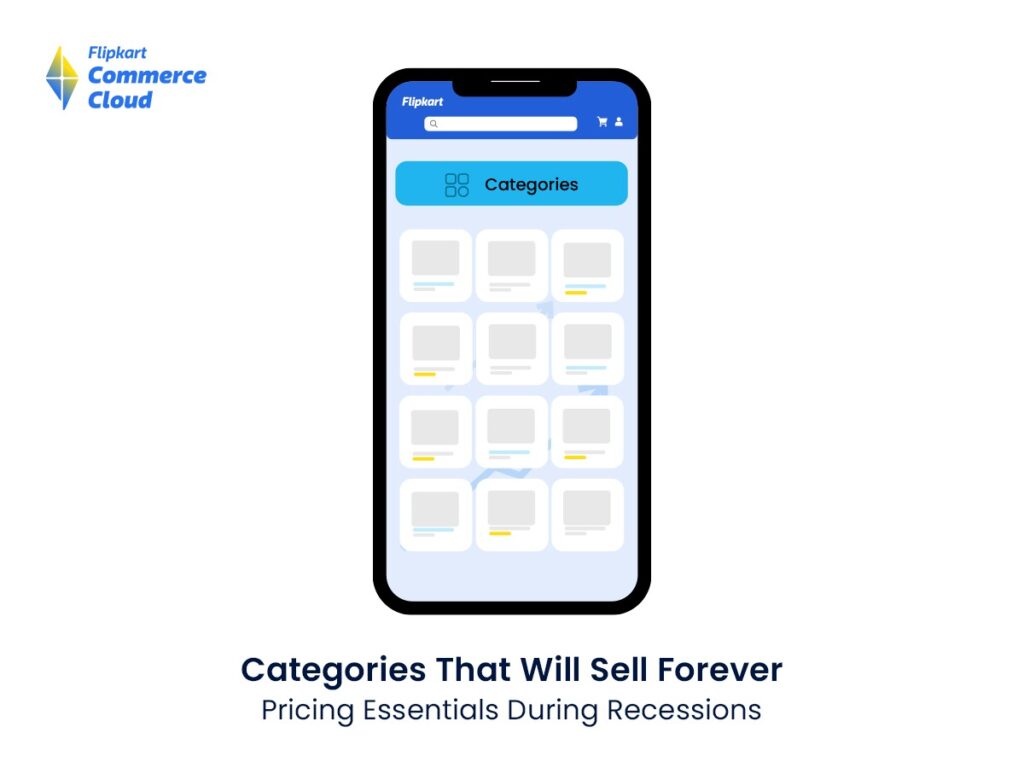 Opportunities for growth
As per studies, retail eCommerce sales in 2021 amounted to approximately USD 5.2 trillion globally. 
This figure is expected to grow by 56 per cent over the next few years, touching about USD 8.1 trillion by 2026.
eCommerce businesses have the opportunity to focus on growth even during a recession. Here's why:
Borders do not bind eCommerce businesses. While physical stores have a limited area, you can take your eCommerce business to customers worldwide. 

With lesser competition, it may be less challenging to grow your customer base. 

Customers, especially younger customers, will likely be more open to trying new brands and products which provide greater value for money.


Product categories that are insulation-inelastic
Recession does not significantly affect some companies, such as utilities and consumer staples.
Also, cheaper products tend to fare better in a recession than luxuries purchased with discretionary income. 
Here are some examples of product categories that may actually open up new opportunities in a recession scenario:
Consumer staples:

Consumer staples such as beverages, food and staples, food products, and personal and household products are needed regardless of the stock markets.
As the demand for these products doesn't fluctuate significantly, businesses selling them generally see stable revenues and perhaps even some steady growth.
In the food and drink category, luxury and drink products often do well as they are cheaper than dining out. Likewise, comfort food like chocolates and luxury products like cosmetics do well too.
Clothing:

Consumers may be less inclined to buy more expensive clothing, but the demand for certain basics and essential clothing, such as t-shirts and jeans, may remain steady regardless of the state of the economy. 
Home improvement supplies:

During periods of financial downturn, people prefer not to buy houses, choosing to improve their present home instead. This was witnessed even during the pandemic when people were stuck indoors.
The elaborate home renovation includes detailing like granite counters and bathroom enhancements. On the other hand, many home renovations can be done using affordable products, quickly sold online—for example, pillows, lighting and bathroom accessories.
Sports and fitness products:

Membership at the local gym may burden the monthly budget. However, those committed to their fitness routine may want to continue the exercises at home. Yoga mats, resistance bands, Swiss exercise balls, sports apparel, and similar products sold online allow people to maintain their active lifestyle without feeling the brunt of the recession.

Movies, TV, and video games

: People prefer to reduce outdoor entertainment options such as movies and theatres in recession environments. For example, Covid lockdowns pushed demand for movies, TV, and video games.

Pet care products:

People will still need to buy pet food, grooming supplies, toys and medicines for their beloved pets.

Healthcare and baby care products:

People will still need them, regardless of their economic condition.
Baby products such as clothing, formula and diapers will continue to sell since people will always need them.
Kitchenware:

As people cut down on eating out during recessions, in particular, jars, spatulas, flatware, skillets and oven mitts sell and do well in recessions.

Automotive parts:

During a recession, people postpone non-emergency expenses. For example, they hold on to their used cars for longer. Instead, repairing is a much more attractive option. This is good news for mechanics and part manufacturers. 

Cosmetics:

While

the economy dives, extreme makeovers and expensive haircuts make way for affordable cosmetics.
Also, due to the 'lipstick effect,' consumers spend money on small indulgences during recessions or when they have little cash. As a result, companies in this space often cope well during recessions.
Competitive pricing strategies to maximise margins during a recession
For eCommerce brands, pricing is an intricate science. Price optimisation strategies help businesses capture more sales while maximising margins.Here are some pricing strategies for eCommerce brands that can help them stay competitive during a recession:
Reward repeat customers

: Focus on customer lifetime value and retention. Loyalty programmes are a great way to achieve customer loyalty. 

Reward your repeat customers with personalised deals, exclusive discounts and bonuses that help them save money. You needn't go overboard, offering discounts on every product. Instead, leverage creative ways to reward shoppers. For example, you can offer discounts to shoppers who review your products or participate in quizzes to enable you to understand their preferences.
Competitive pricing

: Price is an emotionally charged topic, and customers always look for bargains or deals.

Pricing software

helps automate pricing decisions by collecting data from competitor websites and marketplaces.

This helps you ensure that the prices you set for your products are competitive with that of other merchants.

Pricing tools allow you to keep track of competitor pricing, product availability, and discounts so you can adjust your prices accordingly.
Data-driven decision-making

: Niggles such as returns, slow shipping, or a high cost per unit, which can hinder business growth even in regular times, can make a considerable dent during a recession.
Regularly assessing and reviewing the pricing, product quality, shipping, and customer service can help eCommerce stores to make data-driven decisions, partner with reliable vendors, identify customer buying patterns and understand their preferences.You will also be able to improve your cash flow and minimise wastage.
Managing stock

: Consider dropping products that rarely sell from your store as they tie up cash which you could have spent on more in-demand inventory.
It can be challenging if you have leftover inventory. However, considering a sale or bundle offer can help you shift your slow-selling products. Pricing tools help you craft these offers.
By releasing unsold stock, you'll have the much-needed cash flow to adapt to consumer needs.
Cost controls:

Recessions generally hit the bottom line hard. And the higher your overhead costs, the more sales you need to make to generate a profit. 
Your pricing strategy should also factor in cost controls. It will help you find the right balance between margins and customer satisfaction.
By reducing overheads, you will not only increase profitability but also have some extra cash to invest in revenue-generating of your store. It can also give you some space to test for new winning products.
These initiatives can help you boost margins or even reduce pricing to attract more customers.
Increase Return on Advertising Spend (ROAS)

: ROAS indicates how much revenue you earn for every dollar spent on advertising. 
Optimising your ad campaigns and targeting the right audiences will also help you understand which products to keep at what prices.
The formula for calculating ROA is as follows:
ROAS= Revenue (Total Income From Advertising)Cost (Total Ads Spend)
One of the most efficient ways to improve ROAS is streamlining your ad targeting and displaying your ads only to your target audiences.
Targeting could be based on your customer's location, interests, demographics, purchase behaviour, devices, and other criteria.
Also, regularly audit your ad campaigns to ensure your budget is diverted towards relevant clicks only.
Simply put, if you generate good ROAS, you can further boost your ad spend, capitalise on lesser competition and establish yourself as a brand leader in your space. 
Optimise your marketing budget

: Instead of straightaway slashing budgets, explore ways to adapt your marketing strategy to the evolving needs of your customers.
Notably, as consumers get pickier about budgets during a recession, they invest more time researching a particular product before making purchasing decisions.
Disseminating more product information among your customers' will help you validate your pricing and make your products seem more attractive.
Conclusion
A recession shouldn't mark the end of your business. Price optimisation, pricing software, and tools are essential to ensure success even during difficult times. They help you sell profitably, by including the nuances of experience, and strategic pricing that is not just competitive but optimised for profitability.
Flipkart Commerce Cloud Pricing Manager can help you optimise your pricing strategy, set accurate prices and increase your ROAS. Leverage superior AI-driven capabilities to develop the right strategy and keep up with changing market dynamics.